BEIJING, Jan. 31, 2023 /PRNewswire/ — From October 29 to November 9 in 2022, "Pursuing Dreams with a Pure Heart – Han Yuchen Oil on Canvas Collection" was held at the National Art Museum of China.
At the opening ceremony of the exhibition held on November 3rd, famous Chinese art circles gathered to celebrate the grand event.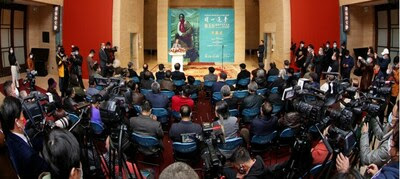 Wu Weishan, introduced the consensus reached by each other to hold an exhibition in the National Art Museum of China when Han's works were donated to the National Art Museum of China four years ago. At the same time, he fully affirmed the ideal pursuit, artistic skills and humanistic feelings of Han's works in this exhibition. Wu said: "The biggest feeling of interacting with Han is that he is very sincere and full of passion for life." Under his brush, those characters are like living people who could be interacted with. He communicates with them by sketching, praises them with the beauty of art and his simple heart.
Jin Shangyi, described the deep relationship between Han and the Central Academy of Fine Arts. In 1972, under the guidance of Li Hua and Su Gaoli from the Central Academy of Fine Arts, Han started on the road of self-study, and finally entered the National Museum of China and the National Art Museum of China, the two highest art halls in the country, and fulfilled his dream.
Xu Li, spoke of the grand occasion when Han held an exhibition on Tibet at the National Museum of China five years ago, and pointed out that this exhibition which would surely attract more people to the exhibition. Friends in the art world, as well as the general audience, have a comprehensive understanding of the artist's fighting spirit that has not forgotten his original intention for decades.
Shang Hui, systematically explained the language style, techniques and emotional expression of Han's works in his speech. It is to adhere to the concept of returning to the essence of painting.
When Han gave his speech, he emotionally recounted his 50 years of unrequited pursuit of art and a long and difficult journey to fulfill his dream of being a painter; The hardships experienced when sketching in Xinjiang and other places; he described his persistent exploration of the colors of sketching and the creative process of bold attempts to express the works.
Photo – https://mma.prnewswire.com/media/1992747/image_5026221_20054595.jpg