Unprecedented seats available at each game at the Parc des Princes
Watch the video here: https://youtu.be/ezH3nKpFBtE
Films and photos available here: http://bit.ly/3DRQGrX
PARIS, Feb. 10, 2023 /PRNewswire/ — From 10 February 2023 until the end of the season, ALL – Accor Live Limitless, a Paris Saint-Germain premium partner, will offer football fans the opportunity to watch Paris Saint-Germain matches a few centimetres away from the players, in specially installed seats right at the edge of the pitch. This experience, which is unprecedented in Europe, will be available through a random draw. One invitation for two people to be won on www.PitchsideByALL.com for all matches at the Parc des Princes.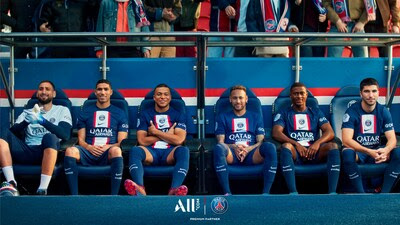 As fans of Paris Saint-Germain, there are certain details that will remain etched in our memories forever. Details that might seem trivial but that continue to make us smile or move us years later.
To give fans even more memorable moments, ALL – the Accor hotels lifestyle loyalty programme and booking platform, who are a Paris Saint Germain premium partner – offers a unique experience; an opportunity to take a seat next to the pitch and enjoy those little details that you will remember your whole life: hearing discussions between Kylian Mbappé and Achraf Hakimi, the coach's instructions, watching Neymar Jr put on his shin pads, discovering the size of Gianluigi Donnarumma's gloves, observing the blade of grass on Carlos Soler's face…
This experience, which has never been offered before in a European stadium, will be launched on 14 February at the Paris-Munich match and will be available at every home game until the end of the 2022-23 season.
"With Pitchside By ALL, the phrase 'having a front row seat' will actually mean something. This Accor Live Limitless members-only experience reflects our ambition to make their experience of the thing they love more intense.
Being able to enjoy the match as close as possible to the coach, being caught up in the thick of the action, sharing the emotion of the team with every goal, every celebratory moment thanks to ALL, will make it an unforgettable moment "says Mehdi Hemici, Chief Loyalty & E-Commerce Officer of the Accor Group.
From 10 February, fans are invited to visit www.PitchsideByALL.com and select the Paris Saint-Germain home match they wish to watch as close to the action as possible.
Online registration allows them to participate in the draw with just a few clicks.
A few days before each match, a draw will be held to determine one winner per match who will win two tickets.
By participating, football fans will have the opportunity to join the ALL loyalty programme and earn Reward points with every booking in Accor hotels, to enjoy new experiences and offers, including with Paris Saint-Germain.
Try to win your tickets on:
#PitchsideByALL @all @psg
Media contact:
Agence Olivia Payerne | AOP for Accor: contact@agence-op.fr
Photo – https://mma.prnewswire.com/media/2000091/ALL_PITCHSIDE.jpg
Logo – https://mma.prnewswire.com/media/2000115/ALL_PREMIUM_PARTNERS_Logo.jpg