XI'AN, China, Feb. 10, 2023 /PRNewswire/ — Medlab Middle East 2023, a leading exhibition of laboratory medicine in ME region, was unveiled at Dubai World Trade Center from 6 to 9 February.
As Tianlong's first show of 2023, we are well prepared and thrilled to welcome guests from all over the world and discuss the latest innovations in the IVD industry.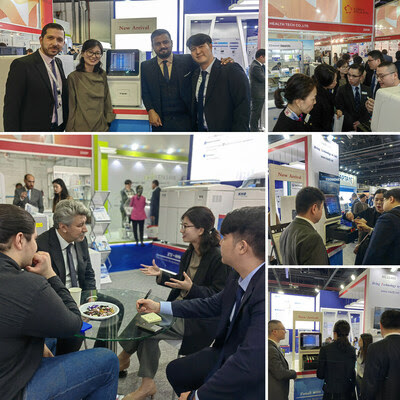 Tianlong introduces to the audience our innovative PCR lab solution, covering nucleic acid extractors, real-time PCR systems, sample processing systems, liquid handling systems, and compatible reagents. The star products from Tianlong have got recognition from new and old partners for its excellent performance and stable quality.
This time, we have also launched our new product Panall 8000 All-in-one Molecular Diagnosis System and put it on the international stage. The new product has drawn the attention of a large number of customers to stop and watch.
The new lab booster, Tianlong Panall 8000 is a simple and secure molecular diagnosis system that integrates the functions of sample tube decapping/capping, sample loading, nucleic acid extraction, PCR setup, PCR detection, and result analysis, which can realize a true sample in -result out detection process and bring great convenience for professionals with only one-key operation.
Benefits:
Sample in -result out system
One key operation and walkaway workflow
Closed system minimizes contamination
8 samples can be tested at the same time
It's a great gathering in Dubai. Thanks to all our friends, partners, and colleagues for making Medlab Middle East 2023 a great success.
Tianlong will always excel to make excellent products, and thanks for choosing Tianlong. We'll keep you informed of our latest shows and hope to have more interactions with you next time.
About Tianlong
Tianlong is an innovative high-tech company specializing in molecular diagnostic products in China. Since its foundation in 1997, Tianlong has devoted itself to providing integrated PCR lab solutions for professionals worldwide. We have a wide range of products covering from devices to reagents, including nucleic acid extractors, Real-time PCR systems, All-in-one molecular diagnosis systems, sample processing systems, liquid handling systems, and 300 kinds of compatible reagents. With NMPA, CE, and FDA marks, our products have been exported to more than 100 countries and regions worldwide and have greatly helped the prevention and control of epidemics such as COVID-19, SARS, avian influenza, Ebola, Zika, and African swine fever.
Photo – https://mma.prnewswire.com/media/1999958/Tianlong_Medlab.jpg
Photo – https://mma.prnewswire.com/media/1999959/Tianlong_Panall_8000_debuted.jpg