Trenton Systems now offers SupremeRAID

GPU-based NVMe RAID controller, enabling maximum flexibility, best-in-class data protection, and superior SSD performance for high-intensity workloads at the tactical edge.
SANTA CLARA, CA / ACCESSWIRE / May 17, 2023 / Graid Technology, creators of award-winning SupremeRAID

GPU-based RAID for PCIe 3, 4, and 5 deployments, today announced its partnership with Trenton Systems. US-based Trenton Systems is a leading designer and manufacturer of ruggedized, cybersecure, made-in-USA computer systems for defense, aerospace, test and measurement, industrial automation, and other major industries.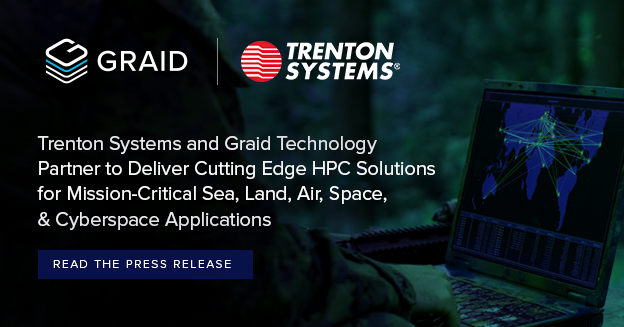 Related Image
Trenton Systems and Graid Technology aim to deliver secure HPC solutions that survive, thrive, and synergize at the tactical edge. SupremeRAID

is a software-defined data protection solution deployed on a GPU for maximum SSD performance without consuming CPU cycles. Unlike traditional RAID, which bottlenecks performance and reduces ROI on NVMe SSD spend, SupremeRAID

employs unique out-of-path RAID technology, so data travels directly from CPU to storage to deliver maximum SSD performance, comprehensive data protection, and unmatched flexibility.
"We are pleased to partner with Trenton Systems to deliver next-generation NVMe/NVMeoF storage solutions that offer a significant performance boost to real-time, mission-critical artificial intelligence (AI) and machine learning (ML) systems at the edge, as well as enabling maximum flexibility, best-in-class data protection, and superior SSD performance for high-intensity workloads," said Leander Yu, President and CEO of Graid Technology.
"Trenton Systems is proud to partner with Graid Technology to provide our military, commercial, and critical infrastructure personnel with HPC solutions that eliminate traditional RAID bottlenecks and unleash the full power of high-performance edge computing," said Yazz Krdzalic, VP of Marketing at Trenton Systems. "With SupremeRAID

and NVMe SSDs, Trenton Systems and Graid Technology can deliver a true end-to-end solution that processes, analyzes, stores, and delivers critical intelligence in seconds to increase awareness and reduce response times."
Learn more about SupremeRAID

 here or contact Trenton Systems for product information and availability.
______________________________________________
About Trenton Systems
Trenton Systems is a trusted computing innovator providing cybersecure, tactical edge computing solutions to the defense and aerospace industries. Established in 1989 and headquartered in Atlanta, Georgia, the company is a pioneer of made-in-USA computing solutions and has endured firmly and unwaveringly at the forefront of the high-performance computing industry for more than 30 years, designing, manufacturing, assembling, testing, and supporting customer-driven rugged computers that accelerate and underpin the world's mission-critical programs, applications, and critical infrastructure processes. Learn more at trentonsystems.com.
About Graid Technology
Graid Technology Inc. is redefining performance standards for high-performance data protection. Headquartered in Silicon Valley, California with an R&D center in Taipei, Taiwan, our leadership is composed of a dedicated team of experts with decades of experience in the SDS, ASIC, and storage industries. SupremeRAID

is the world's only NVMe and NVMeoF RAID card to unlock the full potential of PCIe 3, 4, and 5 SSD performance: a single SupremeRAID

card delivers 19 million IOPS and 110GB/s of throughput. For more information, visit graidtech.com.
Contact Information
Andrea Eaken
Director of Marketing, Americas & EMEA | Graid Technology
andrea.eaken@graidtech.com
949-742-9928
Related Files
SupremeRAID SR-1010 Brochures and Specs_April 2023.pdf
SupremeRAID SR-1000 Brochures and Specs_April 2023.pdf
SOURCE: Graid Technology